Paper
I use Fabriano Disegno 4 (F4). It's an extremely smooth and very affordable paper that allows me to work with very fine pens. It's also ideal for any kind of ink and has an excellent resistance to erasure.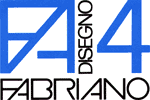 Pencils
Pencils range from "6H" to "6B" ("6H" is the hardest, "6B" the softest). The "H's" have harder leads, which will need to be sharpened less often, produce a fainter and sharper line, and won't smear much. The "B's" have softer leads, which will wear down more quickly and produce a darker and fuzzier line which tends to smear. "B's" are easier to erase, as well.
I use a "HB", which is exactly in the middle between "6H" and "6B".
Inking Implements
For outlining and lettering, I use Sakura Pigma Micron pens. They feature a waterproof, quick-drying pigment ink that is designed not to fade. Also, this ink will not feather or bleed and is smear-proof when dry.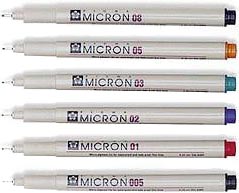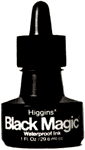 To fill black areas, I use waterproof india ink. My favorite brand is Higgins Black Magic, but I've found Pelikan to be just as good. As for the brushes, since I use them only to fill large black areas, I grab whatever I find on my drawing table!
Erasers
I generally use plastic erasers: they are gentler on paper and work better than pink erasers. They are also, however, more prone to hand oil smears. Hand oils, as well as sweat, can cause impossible-to-erase smears, so I always take care to not let my palm touch the end of the eraser. Fortunately, plastic erasers often come in a cardboard case making it easier not to touch.
I always make sure to by high quality brands. Staedtler, Rotring, Pelikan, Faber Castell, are all excellent choices.

Part 2: from sketch to final draft

all cartoons and illustrations on this website remain ©Piero Tonin or respective owners